home page
list of articles on architecture
This section of www.mckendry.net concentrates Lake Ontario Park and the associated public walkway, which reaches from Elevator Bay Park to the Portsmouth Olympic Harbour in the village of Portsmouth, now part of Kingston, Ontario, Canada. Along with some historical background, there is a Gallery of pictures showing the natural and man-made features of this lakeshore site. For further information on the park's history, see a report by Jennifer McKendry on the City of Kingston website http://www.cityofkingston.ca/residents/recreation/lop/chronology.asp (off-site link)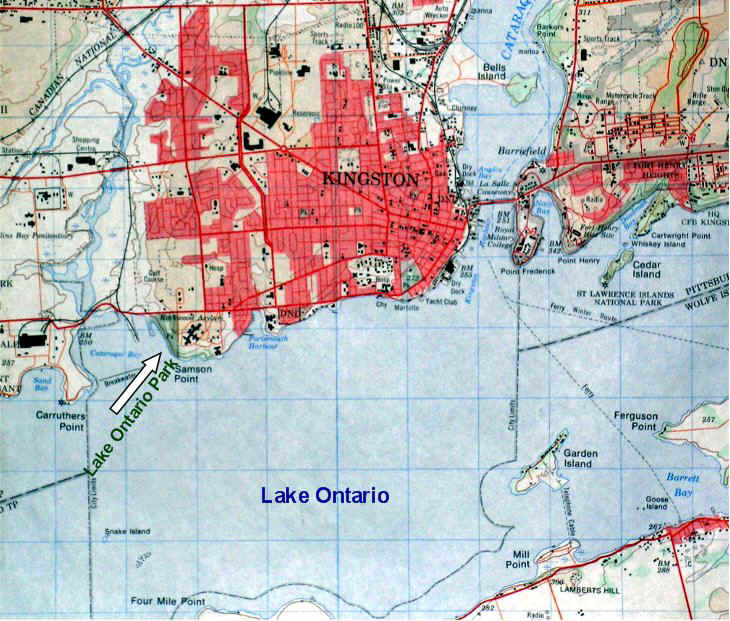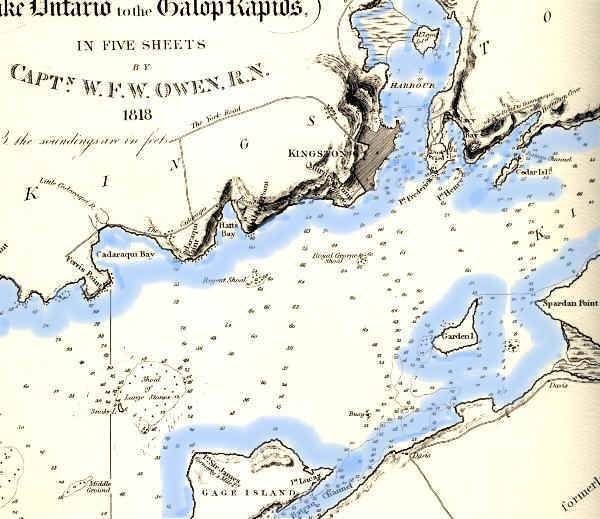 Detail from Owen's map (NMC 21943) of 1818 showing "Hatt's Bay" (now the Portsmouth Olympic Harbour Site) considerably west of the town of Kingston, which is located where three bodies of water meet: the Great Cataraqui River (top), the St Lawrence River (upper right) and Lake Ontario (centre and bottom). Compare with a map of the 1960s above.
Cataraqui Point is Lake Ontario Park and Cataraqui Bay is Elevator Bay. Note the heights of land and slopes to the water's edge.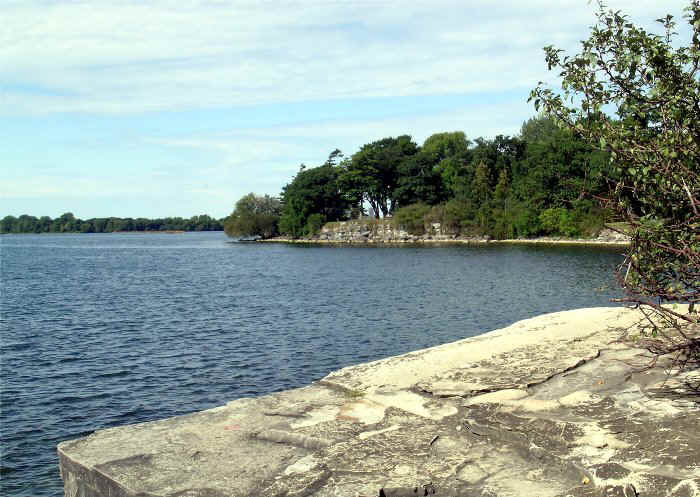 Something of the height of land and slope or drop to the water, as noted on Owen's 1818 map (above), can still be seen along the hospital public walkway and at Lake Ontario Park; view© of Samson Point by Jennifer McKendry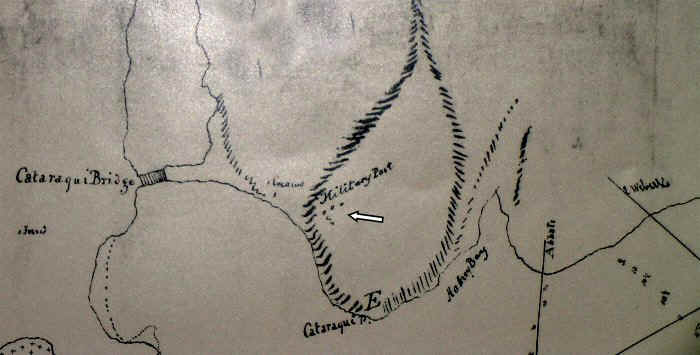 1815 map showing a military post or battery constructed during the War of 1812 after the government bought the land north and south of today's King Street West to guard against a landing by American forces who, by a surprise overland attack, could approach and beseige Kingston; previous to the British conquest in 1758, the French had also built a battery in or near Lake Ontario Park.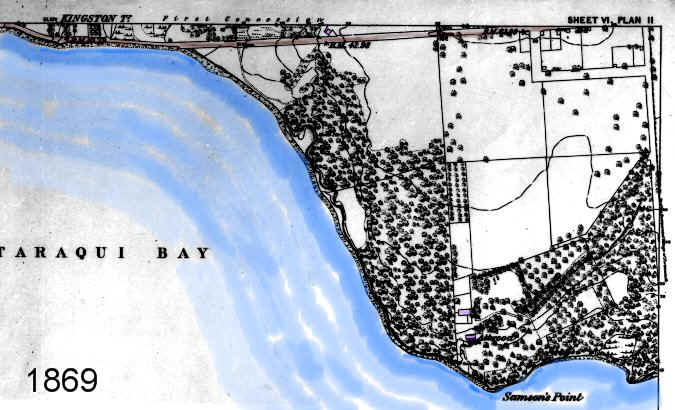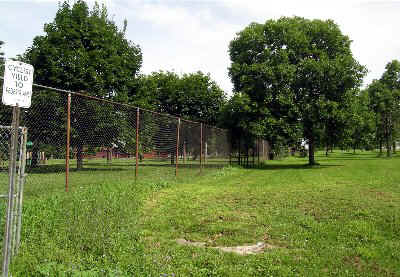 Detailed and accurate map of 1869 showing cleared pasture land and forested areas with a fence separating the Sampson farm on land Dr James Sampson (1790-1862) bought in 1833 (see purple for house and barn north of Samson's Point). King Street West is at the map's top.
Site of the Sampson farm just east of today's chain-link fence separating Lake Ontario Park from the hospital grounds.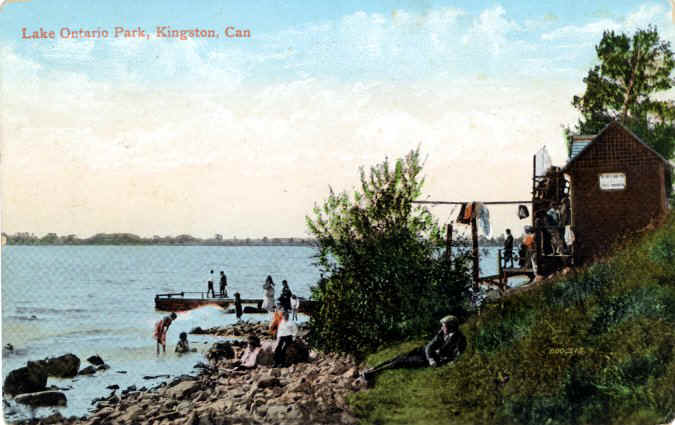 In 1894, when the street railway was extended to it, the most southerly part of today's Lake Ontario Park was used for recreation for Kingstonians; in 1917, the golf club moved to its present site, which included land south of King Street West; by 1918, when this postcard was mailed, swimmers were enjoying the park's rocky shore; by 1924, the allure of a tourist motor camp at the park was being touted in tourist booklets; it is not until 1930 that the park becomes the size we know today, when the city purchased the site from the golf club and the street railway company.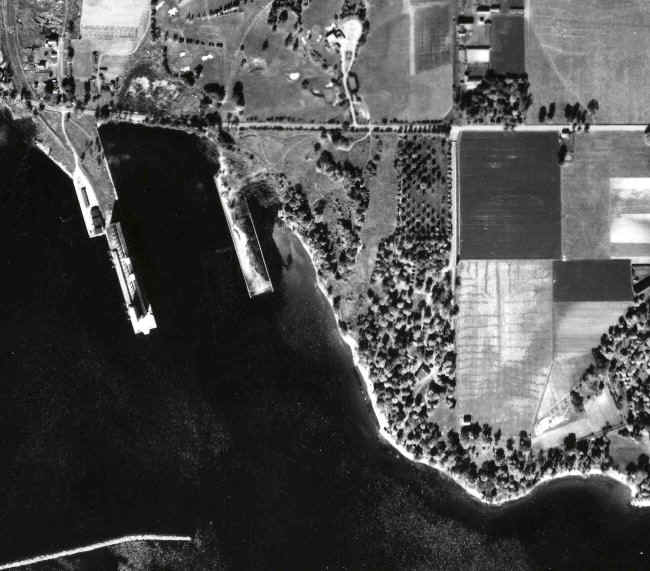 By the time of this air photo of 1953, the sandy bottom of the bay has been dredged to receive large ships carrying grain for storage in an elevator built in 1929 on a pier; a railway track was laid to move the grain by train; the elevator was demolished about 1988; the area is now developed with townhouses and high-rises.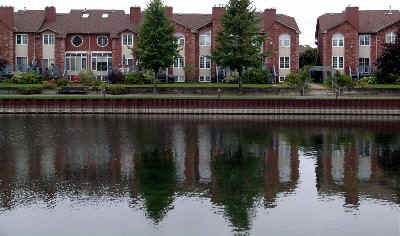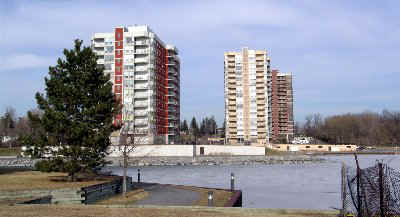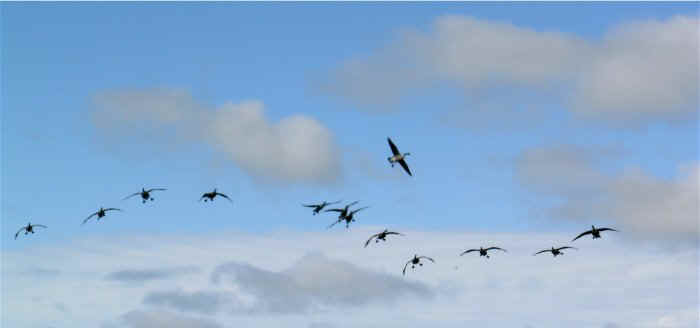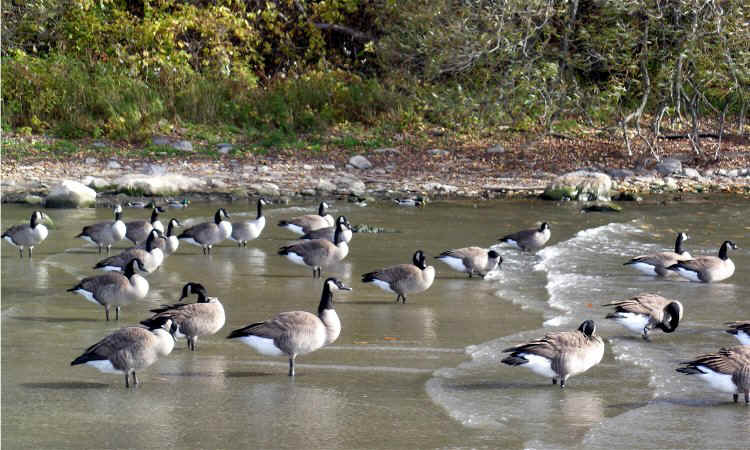 How many generations of First Nation hunters, French soldiers, Loyalist settlers, Irish emigrant farmers and today's park users have stalked or admired flocks of migrating Canada geese along the lake shore? (here resting along the west shore of Lake Ontario Park, photo© by Jennifer McKendry)